We know he's not a real dog…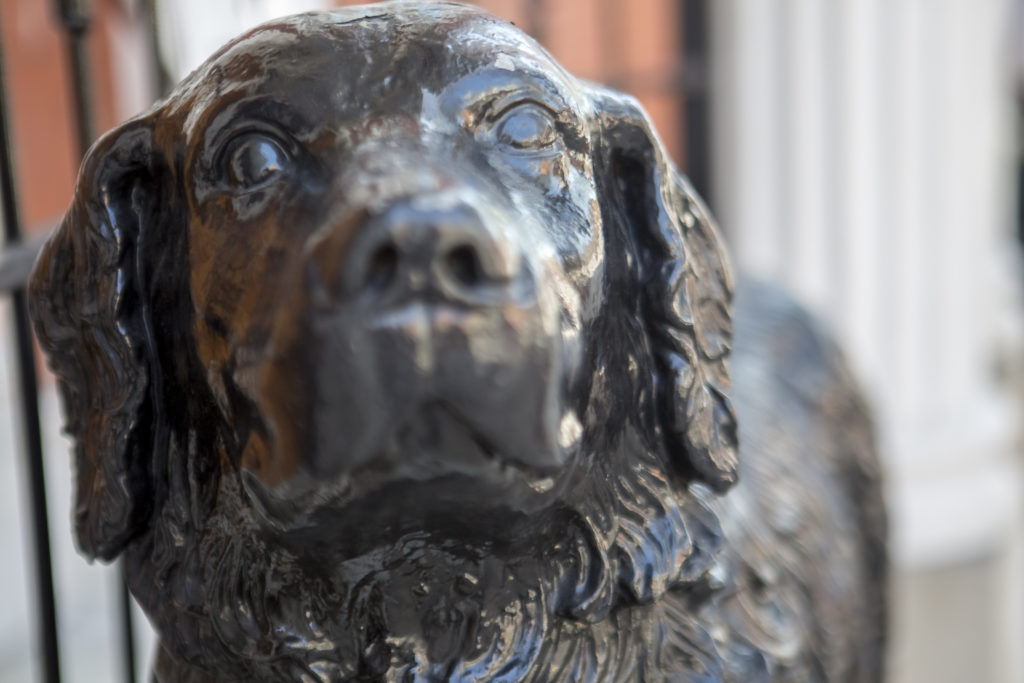 photo courtesy Jason Turner
Countless people have walked past our building since this dog statue was installed on the front steps and part of what makes our space so memorable is his daily presence. We can imagine Civil War soldiers walking past and petting him on the head when they marched through Frederick. We can almost feel the waters of the 1976 flood ripple across his paws and he has been part of every Frederick boys and girls' childhood.
"Charity" as he is named, was installed in 1858 at the shocking cost of $50. He is likely cast in the likeness of a Chesapeake Bay Retriever and, according to a recent restoration report, is made of zinc and pewter and cast during a time period where decorative statuary was a signifier of influence when installed on a private home.
Over the years, both the tail and the head of the statue have been broken off by vandals, including once in 1946 by two soldiers who were stationed at the POW camp near Frederick. Each time the pieces were reinstalled and in 2005 the tail was rebuilt in a downward oriented position in order to stabilize it. Countless artists have painted or sketched our dog over the years and you will frequently see him dressed for holiday occasions. We encourage people to take pictures with Charity but please be mindful of his age (he's 1,099 in dog years) and not climb on him.
Our annual ART of the Dog event, celebrates Charity's steady presence as a symbol of what Federated Charities represents in our community.
In 2020, Charity will go to the vet for a major restoration, which will include re-casting his paws for authenticity and stability. You can be part of our Save the Dog campaign and make sure he's still here for your children and grandchildren.