We were due for an upgrade. and so at the beginning of this year we signed up for the Frederick Garden Tour and forced ourselves to re-think our rear garden.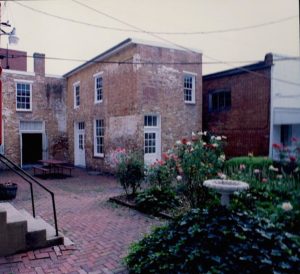 Over the years the rear garden at Federated Charities building has been planted, bricked, and excavated and mined for archaeological treasures. In the mid-1970s one of the building caretakers planted a grouping of heirloom roses in the space and even during our major renovation in 2000, those roses have remained in place. Lovely as they are, they did not lend themselves to anything other than admiration (because they look and smell lovely).
At the beginning of this year, our current board of directors committed resources to a sweat-equity garden renovation that would makeover the space so our tenant-partners could better enjoy it and we could start to rent it out for small events in the community. Our business model is based on the premise of the more money we can raise, the more we can give back to our nonprofit tenants for their own mission-based services.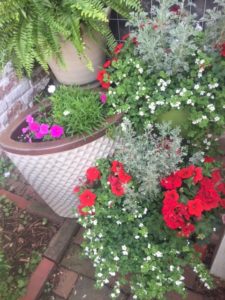 In April, a small crew of intrepid volunteers moved 8 rosebushes to other parts of the front and rear garden and dug out a square courtyard to lay sod. Generous people in the community donated vintage metal outdoor furniture which we painted a festive aquamarine color and we planted a variety of traditional and colorful plants along the building walls and in pots that are clustered around the space.
Today our tenant-partners can use the space to gather, we can use it for events and we have one more spot in our historic building that draws people in to share our legacy. We would like to thank our Board of Directors, countless volunteers, Comprehensive Tree Care, Inc. and the generosity of the Frederick community for helping with our 2018 Garden Renovation project.