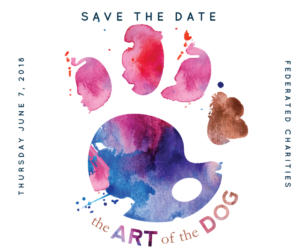 On Thursday June 7th, we will host our second annual event, The Art of the Dog at Federated Charities. Our board of directors will welcome you to our renovated rose garden and first floor of our lovely, historic building where you will enjoy beer, wine and soft drinks, eats and art (silent auction to benefit the programs and services of Federated Charities).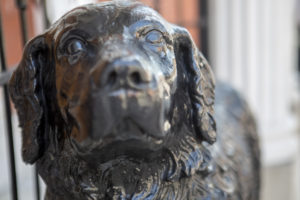 But wait, do we have anything to do with dogs? A little bit because we have owned one since 1858 where he has stood watch over our building and the community. As one of the most iconic fixtures in downtown Frederick, hundreds if not thousands of people walk past him every day but unless you've needed a lawyer or a wheelchair (or any other type of human service), you may not be aware of the work that we do. Since 1911 we have addressed critical needs in this community and since 1930, we have done it from our bricks and mortar building with the dog statue.
The Art of the Dog is just our way to celebrate that work. Local artists and makers and just generous people donate items for our silent auction and you get to enjoy our space for an evening. Tickets are available now.
Thank you to our Top Dog event sponsors, Frederick County Bank and First United Bank & Trust