We were pleased to accept a grant award from the Rotary Club of Carroll Creek this morning in support of the Community Table Project, a joint initiative between Federated Charities, The Housing Authority of the City of Frederick, The Common Market and Pleasant Hill Produce.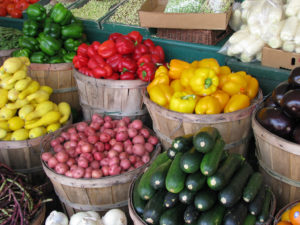 According to The Dietary Guidelines for Americans, produced by HHS and USDA, healthy eating patterns, along with regular physical activity, have been shown in many studies to help people reach and maintain good health while reducing risks of chronic disease throughout their lives. Additionally, healthy eating patterns can be adapted to an individual's budget, taste preferences, traditions, and culture. The Community Table Project helps meet the need to develop healthy eating habits in a neighborhood that also experiences a lack of grocery/food store resources and where residents have transportation, budget or other limitations that restrict their access to nutritious, locally grown/produced food.
As participants in the Community Table in 2016 indicated, a critical factor in whether or not they use fresh produce has to do with its accessibility and affordability and as any working parent knows, an additional factor influencing meal preparation is time and energy so for our second year of participation in the program, we focus on not just the provision of the vegetables but also the ability to prepare nutritious family meals with less effort.
The program offers a monthly cooking demo and shared meal, weekly vegetable distribution as well as a free crockpot to participants who attend at least 4 sessions. This year we have served 12 families and over the course of the past two years we have facilitated the distribution of more than 400 pounds of locally grown produce to the participants and other nonprofit agencies in Frederick. And while our board of directors likes to refer to the project as, "that vegetable program we do," Federated Charities is committed to bringing together families and local farmers at the same table to promote healthy eating in all our communities.
Thank you to the Carroll Creek Rotary and all our partners for supporting this project!