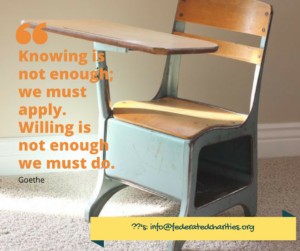 Federated Charities recognizes that shared opportunities lead to greater expertise and maximize the resources of new and established programs and has committed to offering professional and relevant training to the non-profit community in 2017. We are partnering with professional consultants and other organizations to offer free and low cost sessions each quarter
In addition to regularly scheduled "office hours" in our co-work space, we are pleased to offer the following learning opportunities (please note that not all sessions are offered directly by Federated Charities, registration information can be found using the links):
Wednesday May 24, 6:00-8:00 Grantwriting for Beginners
New to the grantwriting game? The Word Woman, LLC can help you get started in this intensive, fast-paced clinic hosted at Federated Charities, which reviews the basic tools of grantwriting and shows you how it fits in your overall fundraising strategy. Session is appropriate for new fund development staff, emerging organizations and board members. This opportunity is part of an ongoing series during the second quarter which takes a comprehensive approach to several critical elements of fundraising including program development, outreach and community engagement.
$10 Pay What you Can! Register here
Cancelled

– Fall date TBD: Saturday June 24, 9am-2pm Financial Systems and Accountability
You rely on the public's trust to do your work so it's critical that you have systems in place to manage your finances. If you're not sure how to get started, this hands-on session is perfect for you. Learn the basics of budgeting, create a simple tracking and documentation system and understand how to help your board understand the finances of your organization (ie: decode your financial statements). Session is appropriate for emerging organizations, new finance staff, board members.
$25, breakfast included, register here
Companion Session(s): Thursday June 15 11:30-1:30, Successful Financial Management for your Nonprofit offered by First United Bank & Trust at the Frederick County Chamber of Commerce
Mark Your Calendars and Stay Tuned!
Friday July 14, 9:00-2:00 Non-Profit Roadmap: Driver's Ed For Your Board of Directors
Tuesday July 25, 6:00-8:00 Onboarding Your Board: A Panel Discussion From the Trenches
Friday September 15, 12:00-4:00 You Said What To An Employee? Learning How To Legally and Effectively Manage Human Capital
Winter TBD Creating Effective Marketing Presentations (Or, Don't Show Up With a Boring Powerpoint)