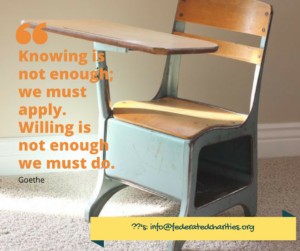 Federated Charities recognizes that shared opportunities lead to greater expertise and maximize the resources of new and established programs and has committed to offering professional and relevant training to the non-profit community in 2017. We are partnering with professional consultants and other organizations to offer free and low cost sessions each quarter
In addition to regularly scheduled "office hours" in our co-work space, we are pleased to offer the following learning opportunities (please note that not all sessions are offered directly by Federated Charities, registration information can be found using the links):
Onboarding Your Board: A Panel Discussion From the Trenches, Tuesday July 25, 6-8 pm
You're not alone. Managing relationships and the interaction between a board of directors and staff is an area where many new and seasoned nonprofit people struggle, in part because the players are always changing, but the relationship's impact on your sustainability and success is critical. This conversation will cover board recruitment and structure, planning effective meetings and address communication between board and staff.
FREE (refreshments included), session is appropriate for new and vintage EDs, senior program managers and board members
Register HERE
One-On-One Grantwriting Consultation, Tuesday September 5, 10am-2pm (four one-hour appointments ONLY)
Ever wish you had someone in your back pocket helping you write one of those grant applications? We know the feeling, especially when you really thought your program would resonate with a funder…and then it didn't. Federated Charities is underwriting a limited number of one-hour consultations with a professional grantwriter, Vickie Johnson. She will go over one of your recently submitted proposals with you. When you register, we're going to ask you to provide several sections from a recent proposal you've written (all materials are confidential) for her to review in advance.
FREE, session is appropriate for emerging organizations, new fund development staff
Register HERE
You Said What to an Employee?? Learning How to Legally and Effectively Manage Human Capital, Friday September 15, 12-4pm
Are you new to supervision? Did you inherit an organization that has staff issues? Don't wait until you actually have an HR matter to deal with it in your organization. It's never too early to plan for your new staff (even if you don't have any employees yet). Work through the basics of personnel policies, hiring and onboarding and how to deal with common HR situations.
 $25 per person (lunch included), session is appropriate for new and established managers, board members, EDs
Register HERE
Financial Systems and Accountability, Saturday October 7, 9am-1pm
You rely on the public's trust to do your work so it's critical that you have systems in place to manage your finances. If you're not sure how to get started, this hands-on session is perfect for you. Learn the basics of budgeting, create a simple tracking and documentation system and understand how to help your board understand the finances of your organization (ie: decode your financial statements).
$25 per person (lunch included), session is appropriate for emerging organizations, board members, new program staff
Register HERE
One-On-One Marketing Consultation, Tuesday October 10, 10:30am-2:30pm (five one-hour appointments ONLY)
So you want your Facebook posts to go viral? Us too but there's some tricks of the trade that you might not know about. Federated Charities is underwriting a limited number of on-hour consultations with a marketing professional. Angelica Carter will review your nonprofit website or Facebook page and your short and long-term communication objectives in advance and spend your appointment discussing immediate adjustments you can make for maximum impact as well as talk through any new outreach ideas your organization is considering.
FREE, Session is appropriate for organizations with a website, a Facebook presence and/or a draft of a communication/marketing plan. Don't have any of those things, schedule your slot anyhow and she'll talk you through getting started!
Register HERE
 237 Slides Is Too Many…And Other Presentation Problems, Friday October 20, 9-11am
Your audience isn't going to get that 15 minutes back of their lives if your presentation is bland and your slides are filled with lines and lines of text…and what are you going to do if the AV breaks down? This session will help you put together an awesome slide presentation and talk you through knowing when you shouldn't show it because you understand your audience and your venue. You'll also have some hands on time with an expert to develop your own slideshow presentation with best practices for text and graphics. P.S. the AV always breaks down.
FREE, session is appropriate for anyone responsible for any aspect of public speaking or anyone who regularly abuses presentation software
Register HERE