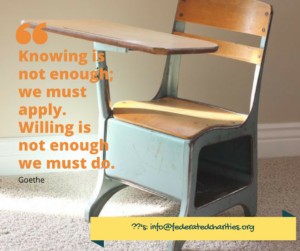 Through our strategic support initiatives, we strengthen local nonprofits, helping them make connections with one another, maintaining an open-door policy for assistance with organizational and programmatic development, offering professional development training opportunities for staff, volunteers and board members, and advocating on behalf of the industry with the larger community. We are a member of the National Nonprofit Centers Network, the Chamber of Commerce Nonprofit Alliance and participate in several working groups in the community. In some cases, we provide direct programmatic assistance to other organizations to help them develop sustainable projects that benefit Frederick residents.
We recognize that shared opportunities lead to greater expertise and maximize the resources of new and established programs and, in addition to our regular programming we have committed to offering professional and relevant training to the nonprofit community in 2018. With generous support from the Delaplaine Family Foundation, we are partnering with professional consultants and other organizations to offer free sessions each quarter
In addition to regularly scheduled "office hours" in our co-work space, we are pleased to offer the following learning opportunities (all sessions are FREE!)
Upcoming Sessions:
Stay tuned for fall 2018 sessions coming soon!

Previously Offered Sessions:
Money, Money, Money, Money...Transparency!
June 2018
In 1973, The O'Jays recorded the funk song, For the Love of Money (go look it up, you'll recognize it). For at least that long, nonprofits have had to be transparent in their financial dealings...and that means paperwork and systems. Don't let your mission momentum get in the way of the serious business of accounting for yourself to your donors and funders...it's really nothing more than a few basic principles of financial management.
Join Kelly Chapin of Chapin Office Solutions at Federated Charities for a practical, no-nonsense discussion of what to keep and not keep and how to keep track of it all. She'll also help you start to understand when you can do it yourself and when you should consider bringing in a professional to help. Remember, your donors want to support your idea but they also want to know that you're keeping track of their money. You'll walk away with the beginnings of a system that helps you account for yourself and for your programs and services.
This session is most appropriate for new and emerging organizations and board members.
(Note: This event is SOLD OUT, contact info@federatedcharities.org for additional event dates)
Mission and Vision and Strategy, Oh My!
May 2018
Despite what you might think sometimes, mission, vision and strategy aren't a never-ending loop that end in a black hole (or the bottom of the toilet). They are critical to your ability as a nonprofit to get people to support who you are. Think about it, if your organization has a mission without a strategy then you can find yourself spread too thin. If you have a strategy but no vision then how do you know if you've been successful?
Join Pat Hanberry of Hanberry Associates, LLC at Federated Charities in this hands-on and peer-input session to evaluate the elements of successful mission and vision statements from real organizations and discuss how they fit into your internal operations. But wait, that's not all: What are the elements of a strategic plan? How do you find someone to help you develop one (hint, it's probably not that guy whose business is called Strategic Plans R Us). Bottom line is that your starship power thrusters will propel you away from the dark matter and towards sustainability and smoother operations.
This session is most appropriate for new and emerging organizations and board members.
(Note: This event is SOLD OUT, contact info@federatedcharities.org for additional event dates)
Event Planning 101
March 2018
Don't misjudge where the helicoptor drops golf balls for your next charity-golf bingo...there isn't enough insurance in the world to make up for concussing a board member or major donor!-) But seriously, even if you're an events veteran, there's always something at the last minute for you to remember. Join the fabulous Mary Ellen Mitchell of Allow Me Consulting and let her start to steer your organization's course to a fantastic fundraising event.
(Note: This event is SOLD OUT, contact me@allowmeconsulting.com for additional event dates)
Your Board and You: It's Not Just Unicorns and Governance
April 2018
Does everyone in your organization look like this at the end of a board meeting? There's a better way.
Join Michelle Nusum-Smith of The Word Woman, LLC to get to a board of directors that actually goes to work to generate support for and effectively governs your nonprofit. Learn how to recruit a board comprised of people who have the knowledge, skills and dedication your organization needs to be successful. Know what you're getting into if you're a newly recruited board member. At the end of it all, you'll be a happier unicorn...we promise.
(Note: This event is SOLD OUT, contact The Word Woman, LLC for additional event dates)