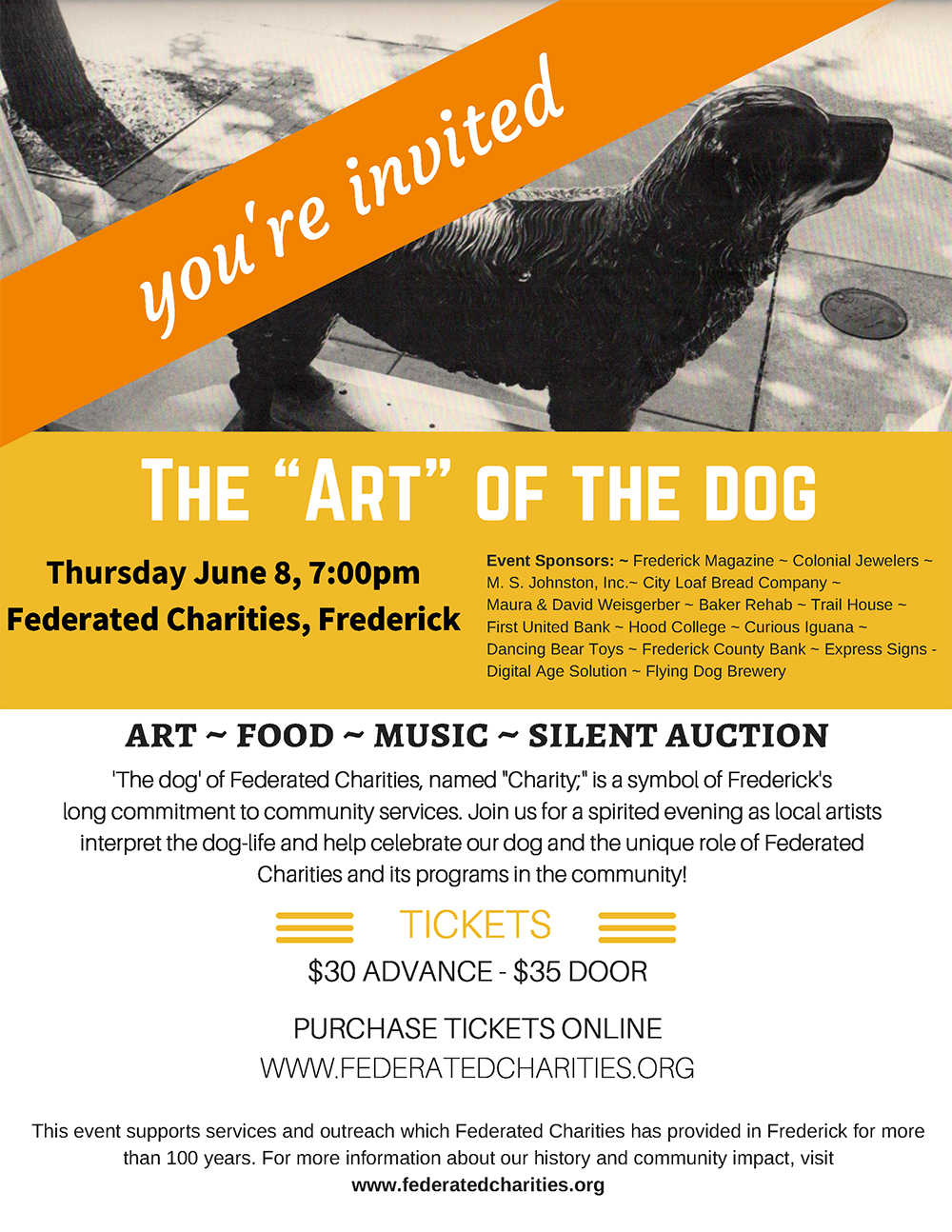 Frederick loves its dogs and Federated Charities loves its dog, "Charity." We're combining the two into a unique event that celebrates our organization's impact in the community…for more than 100 years. The iron dog that stands on our front porch was cast by the Baltimore stove manufacturer Hayward Bartlett and Company in 1858 at the exorbitant cost (for its time) of $45. He is a Chesapeake Bay Ducking dog and was likely a rendering of a beloved family pet but one of the stories told is that the statue was placed on the porch to keep raucous visitors from falling off it.
For many, "Charity" (so named by the community in the 1970s) is the symbol of the services that Federated Charities has offered in Frederick and like the building itself, a testament to how we care for our most vulnerable citizens. Each year we serve more than 600 individuals with our own programs and services such as our medical equipment loan closet and our Community Table project. We also serve the greater non-profit community by supporting 9 tenant partners with low-cost rental space so they can serve their own clients and we offer capacity development and training opportunities with a variety of partners.
Local artists are generously contributing their time, talents and energy to their own interpretations of the dog life for our silent auction event in June. One of a kind, collectible pieces by graphics illustrator, Ellen Byrne and textile artist, Margaret Hluch will be available (among others) as will our graciously restored first floor and rear garden for wandering with your food and drink. Tickets are $30 in advance and $35 at the door.  Reserve your tickets at http://bit.ly/2p0VFOp
Federated Chartities provides strategic and "bricks and mortar" support to non-profit organizations in Frederick, Maryland.
Together with our tenant-partners, we serve thousands of individuals in our community.
How Do We Make A Difference?
Clients Served
Clients served by our Tenant-Partners each year
Equipment Loaned
Pieces of medical equipment distributed in 2015
Our goal is to use our resources to serve the non-profit community in Frederick. We have been the home to many of the charities operating in Frederick and together we make a vital difference in our city.
"Your organization is a blessing to our town. Thank you." -Kenyon P.
"Federated Charities was here for me when I needed to borrow special equipment for a brief time following surgery. At no charge. Today, I'm here for them." -Judy D.
"You have a great program. I like you almost as much as I like peanut butter cups." -Mitchell D.
You Make A Difference
in Frederick
Signup for our monthly newsletter to hear what Federated Charities is up to.